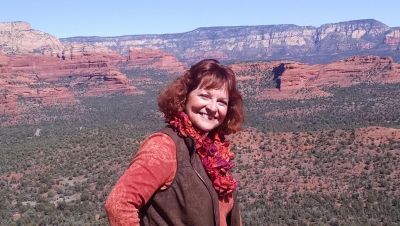 I have been working in the healthcare/alternative medicine field for over 30 years, first as a Physical Therapy Assistant, then as a Massage Therapist, Reiki Master, Certified Life Coach, Teacher, Energy Healing and ThetaHealing® Practitioner/Instructor. I also co-own Inner Peace Designs LLC, a custom pewter design company with my husband Dan LaCroix.

Throughout my career, I have recognized that there was a strong connection between the physical, emotional, and spiritual component within all of us. Even when I was doing everything possible to give clients relief of their physical symptoms, sometimes, it just wasn't enough. I soon came to realize that there were things going on behind the scenes that were contributing to the fact that they weren't healing! We are physical, spiritual and energetic beings and they all must be addressed for total body healing!
That's when I decided that I needed to find a more holistic approach to how I worked with my clients. I transitioned out of "traditional" Physical Therapy and more into Massage Therapy where I was able to incorporate the emotional component of the healing along with Life Coaching. Something was still missing. It was the spiritual and energetic component that was so much a part of my life growing up.
I now use the techniques that I learned in Physical Therapy, which are also part of my Massage Therapy training, along with Massage, Energy work, Traditional Chinese Medicine, Life Coaching, and the ThetaHealing® Technique. I also use many other modalities that I have learned throughout the years, to bring about relief on all levels. Each session is specifically individualized for the client on that day.
I refer to myself as not as a teacher, rather as an "Awakener", awakening that which is already within each and every one of us. My mission is to bring healing to this world one person at a time.
It would be an honor to me to assist you in "Making the REST of your life, the BEST of your life!"
AMTA Member and Board Certified
https://www.facebook.com/monique.lacroix.39
https://www.innerpeacedesigns.net
Http://www.thetahealing.com/moniquelacroix
ThetaHealing® and ThetaHealer® are registered trademarks of THInK at http://www.thetahealing.com